Time to Relax…Stop and Smell the Roses
Outdoor activities, food tours, brewery tours, the Biltmore Estate, Trolley Tours, waterfalls, the Blue Ridge Parkway, mountains, lakes, and so much more…there's always something fun to do in Asheville and that's why so many travelers come to visit our great city.
On average 29,800 people visit Asheville each day. In 2016, Asheville attracted 10.9 million visitors and continues to be named on Top 10 lists of why to come visit Asheville.
Our guests at Abbington Green spend their days out and about doing all the fun things mentioned above that Asheville has to offer. Many of them spend their mornings or evenings before our 5pm Social Hour relaxing on one of our many porches and walking our gardens on the property…and they provide a nice reminder to take the time to relax, slow down, enjoy nature and see the beauty that surrounds us.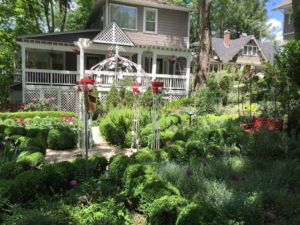 Carey and I felt it was important to create a guided walking tour of the Gardens at Abbington Green, so we revised our website to reflect their beauty and now included in each guest room's information folder we've included a copy of the garden walk that you can take with you to walk through the property.
Starting at the front porch and winding your way through to the back garden, guests will see and learn about what we have growing, the style used to create the garden, and also the 4 fountains we have on the property. The gardens at Abbington Green surround the house as a series of authentic English garden "rooms", each with a different theme.
The Shade Garden is an informal space located beside the front porch. Guests will notice the St. Bernard fountain at the front of the porch placed there in memory of our dog Bailey, who was an amazing Pet Therapy Dog for 6 of her 12 year life.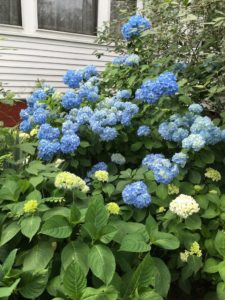 The Chartreuse Garden
is a small formal space surrounded by trellis fences.
It is named for the variety of yellow foliage, variegated foliage, and yellow and white flowers in this garden.
Also included is a pineapple fountain planted with Water Iris and a Garden Fairy given to us by a guest to attract good fortune to our gardens and home.
The Vegetable Garden
is tended to and planned out by Steve every year.
During the Winter season ahead of planting, Steve combs through the seed catalogs to find what he'll plant in the Vegetable Garden.
Tomatoes, asparagus, radishes, a variety of lettuce, carrots, spinach, peppers, and cucumbers are commonly grown in this garden.
We love having fresh, homegrown produce to use in our breakfasts and 5pm Social Hour offerings such as Steve's Mom's recipe for Bread and Butter Pickles.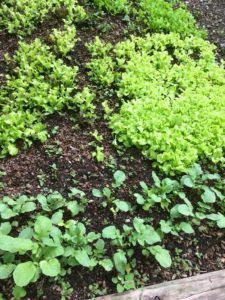 The White Rose Garden
's floral color scheme is pink and white throughout.
A tiered fountain at at the center adds soothing sounds to this space much of the year.
Mom's Rose Garden
is planted with pink shrub roses, pink and white peonies, many perennials, and is interplanted with annuals for constant color from Spring to Fall.
In addition, four cherub musician statues represent fictional angels of love to symbolize the love a mother has for her children and the love we have for our mothers. Here, in the beauty of this garden, they come together to honor our Moms.
The Oriental Garden
has a Chinese and Japanese influence including two small statues of Foo Dogs to greet you and decorative pagodas and an Asian lion statue.
Guests can easily find the 4 Chinese stepping stones which represent the Four Seasons, as well as a small statue of Buddha.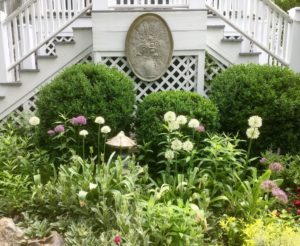 The Lower Garden
can be seen from ground level well as from the porches and decks of both the Main House and the Carriage House at Abbington Green.
Laid out as a central "wheel" pattern of radiating pea gravel paths lined with over 180 boxwoods with benches to rest at each end point.
In the center stands an antique gazebo that Nick found at a local antique store and the team here at the Inn restored. Each "pie slice" shaped bed is planted with one primary type of plant for a beautiful effect, and at the very back of this garden is a trellis adorned with a lion head fountain flanked by climbing roses.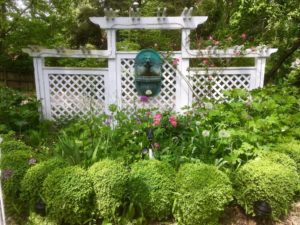 In 2015, the gardens became a Certified Wildlife Habitat.
We use no chemicals nor pesticides in maintaining the gardens, in an effort to create a safe environment for our wildlife friends and also our guests.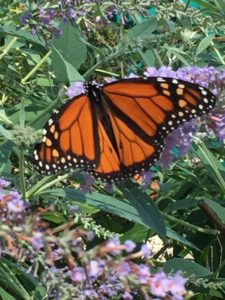 Valerie, the original owner at Abbington Green, created these award-winning gardens, and our Steve continues to bring out their beauty in the Spring, Summer, and Fall.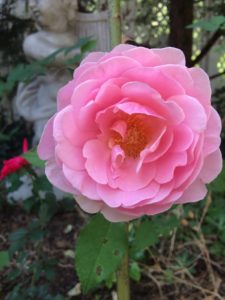 We hope the next time you come to visit us you take the tour, and the time to enjoy the gardens at Abbington Green. Time to relax…stop, and smell the roses.