Welcome to our Holland Park Suite!


As of August 1st, guests can begin to experience staying in our newly renovated Holland Park two bedroom and two bathroom suite. This is an exciting new addition to Abbington Green Bed & Breakfast Inn and Spa.
We now have 2 two bedroom suites on the property for our guests to enjoy:
Eaton Square and Holland Park.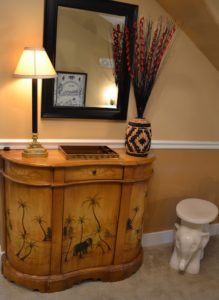 Before I tell you more about the suite, let me tell you more about the name, Holland Park.
All of our rooms at Abbington Green are named after gardens and parks in Britain.
Holland Park is a lovely and relaxing London park with
formal borders and wilder areas.
Included in the park is the immaculately kept Kyoto Garden which opened in 1991
to celebrate the Japanese festival.
The gardens were created in the early 1800s by Lord Holland and cover some 50 acres.
Our Holland Park Suite is reminiscent of these gardens with both Asian and British decor, and offer guests beautiful views from a private balcony terrace off of the Living Room at the front of Abbington Green Bed & Breakfast Inn.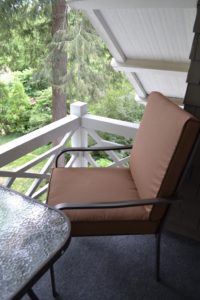 In the sitting room there is an open-plan seating area with comfortable chairs and dining area for four.
There is a 50″ LED cable TV with Hi-Def and Blu-Ray/DVD player over the electric fireplace.
The classic furnishings and chandeliers add ambiance to the British/Asian theme.
There is a private, 2-person balcony in the apex of the roofline overlooking the mountain ridge. The Green Bedroom represents the British theme and the Blue Bedroom represents the Asian theme. Both bedrooms feature king-size beds, individual climate controls, ceiling fans, seating areas, cable TV, charging stations, safes, robes, choice of pillows, and sound machines.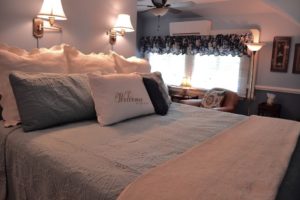 Both full bathrooms feature tubs with rain showers, heated towel bars, motion sensor lights, hair dryer, lighted make-up mirrors, pedestal sinks, and individual hot water heaters.
Just like the rest of the Inn, all the water is specially filtered for your health and enjoyment.
There is complimentary wireless, high speed internet access,
and an iron and ironing board.
The suite also features a small efficiency kitchen with refrigerator, microwave, coffee/tea center, glassware, and dinnerware.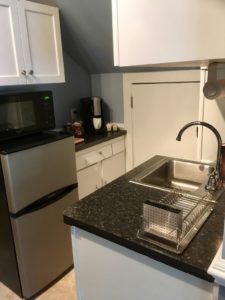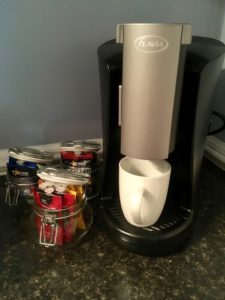 The Holland Park Suite is perfect for two friends traveling together who both want their own bedrooms but appreciate the availability of a common area to spend time together. It will also work well for 2 couples, giving them privacy in their own bedrooms and own bathrooms. All the prices online are based on a 2 person occupancy, and when you book your reservation online at abbingtongreen.com, you can adjust the number of guests and the price will adjust accordingly for the additional people.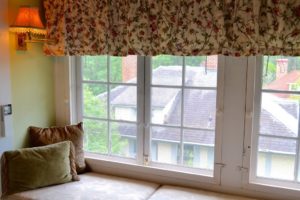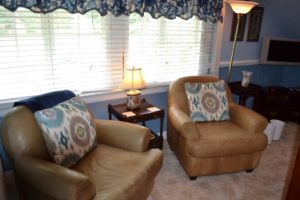 This week we've already had 2 guests find the suite online on our website and book their stay for August and November, and had a guest stay for a night to extend their time with us when we had a full Inn!
I'm so excited by this new addition, and for being able to invite more guests to sample the 4 Diamond experience that Abbington Green is known for!
Hope to see you soon. All the best,