Abbington Green Top Ten List
On September 30th we will be celebrating our 4 year anniversary of being Innkeepers at Abbington Green.
As the years have gone by, we've noticed that several items at the Inn are asked about by our guests on a weekly basis so I thought I would highlight them for you here in my blog.
Let's start our tour on the front and back porches, with the beautiful sounding wind chimes.

The chimes on the front porch were given to us as a gift for our 50th birthdays from great friends who live in Virginia.

They are from a company called

gracenotes.com

and are in the key of F Major 9 and are the XL size.

If you go on their website, you can listen to the different wind chimes they have to offer.

I'm happy to say that I've heard of a few guests that have purchased them!

We now list the information about the chimes on our website because of the weekly questions about where to buy them.

We loved them so much that I bought another set for the back porch at the Inn. They really do sound amazing!

On one particular morning, a guest on the front porch asked me where the church was that was playing the beautiful sound.

After thinking for a few minutes, I realized that she was actually hearing the chimes and thought it was church bells nearby.
THE MEZUZAH
When you enter the front door there is a beautiful Mezuzah that was given to me by a previous guest, who is now a friend.

Cheryl and Richard came for their first visit in 2015.

As some of you know, we decorate outside and inside for the Christmas holidays with over 20 trees, tons of lights, and a 4 foot tall lit menorah.

During Social Hour on the evening that we decorated the outside of the Inn, Cheryl and Richard happened to be staying with us.

She asked if she could say the Hebrew Blessing over the Menorah.

We were so happy to oblige and invited the other guests to join. We all went on the front porch for the blessing.

About a month later, Cheryl called to tell me that she had found the most beautiful Mezuzah and she wanted to buy it for me to put up at the Inn. Coincidentally, the day it arrived, we had a Rabbinical student staying at the Inn who helped us put it up at the front door complete with the Hebrew Blessing. On a weekly basis guests ask about this beautiful Mezuzah since it's obvious that I'm Greek.

We also have had the Greek Orthodox Priest blessed the Inn when we arrived and the Rabbis blessed it with our Mezuzah. We want everyone to feel welcome here at Abbington Green.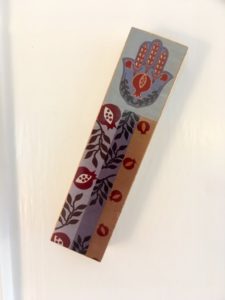 THE FLAG
In the living room, proudly displayed on a shelf, is my parents' wedding photo and on the next shelf down is a glass case with my Dad's military flag from his funeral and the inscription: George Poulos 1925-2011.

My Dad was in WWII as a paratrooper stationed in the Philippines.

We grew up singing Army songs and hearing his Army stories. When he passed away in 2011 he had a military funeral with the 21 Gun Salute and I can never hear Taps again without getting tears in my eyes. My sisters knew as well as I did that one day I would own a Bed & Breakfast, and wanted to make sure that I had our Dad's flag so it could be displayed at the Inn.

I get so many questions from guests that have been in the Military about my Dad.

Thank you to all the Veterans for serving our Country.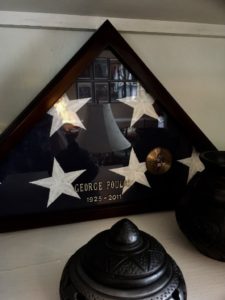 I mentioned my parents' wedding photo above.

My parents were married in the early 1950's and I have a beautiful photo of my parents from their wedding day.

My mom used to tell us stories about this picture.

She was short and my Dad was tall, so they had her stand on a box so they would be closer in height for the photo.

Numerous guests think it's me in the photo.

Yes, I do look a lot like my Dad.

I take that as a compliment.

I miss both my parents and I wish they could have seen my dream come true with Abbington
Green.
Also in the living room hangs two brightly colored paintings with poppies and sunflowers.

The Artist is Vicci Waits from Savannah, Georgia. The paintings used to hang in our dining room in Florida, and are one of the first things guests see when they walk through the front door.

The reason why I picked this location for them is the special meaning they have for me.

When Vicci was painting the larger painting for me she added 2 monarch butterflies to represent my Mom and Dad that have passed away. We actually have tons of butterfly bushes at the Inn for this very reason, to attract the butterflies including the monarchs.

Whenever we see them outside we say "Hi Mom! Hi Dad!". September 14th was my birthday and sure enough, 2 monarch butterflies were out there to wish me a happy birthday!
Another focal point in the living room is my 1950's Baldwin Baby Grand Butterfly Piano.

It's

unique in that it opens like a car hood and that's part of the reason why guests ask about it all the time.

It has a unique tone and original ebony and ivory keys.

It meant a lot to me growing up and has sweet memories of learning to play the piano.

From what I have been told, only

about 200 of this model were produced and it brings such joy to the room when guests play.

I'm known to play in the afternoon when I have a free minute, but I'm still not that good.

During the Holidays when we participated in the Montford Tour of Homes, a local musician plays my piano for hours entertaining everyone.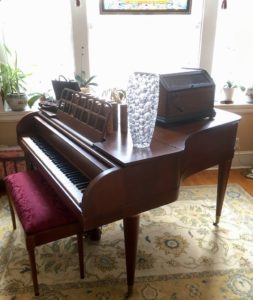 On top of the piano sits our 1890's Concert Roller Organ and the Cobs which are the music rolls.

It sort of works and sounds like a harmonica but instead of blowing air in, it pushes the air out to make the sounds.

The Cobs have metal pegs that when you crank the roller the organ sound is made.

I purchased this Roller Organ from our Handyman Dennis and guests continue to be fascinated with how it looks, works, and sounds.

In the Late 1800's the Organ used to cost $7.60 and they were produced through the 1920's.

Thank you Dennis for adding such a wonderfully unique item to the Inn.
In the dining room is an antique glass door cabinet that displays colorful enameled silver bowls, candy dishes, goblets, and decorative items.

I've collected this for over 30 years.

It was originally manufactured in Denmark in the 1950's.

In the late 50's Towle and Reed & Barton started making pieces in the U.S.

Many of the pieces have names and dates engraved on the bottom to commemorate weddings and special events.

There was not a lot of this manufactured, so it keeps my collection small.

Several years ago, a repeat guest brought me 3 enameled silver bowls during her second visit.

She was given them as wedding gifts and wanted them to be a part of my collection.

We continue to cherish them as a part of our collection.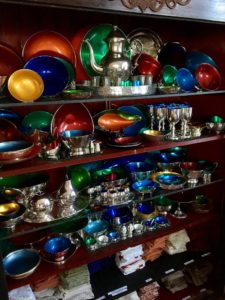 LIME GREEN KITCHENAID
The biggest conversation piece when guests peek in the kitchen is the lime green KitchenAid Mixer.

You can't miss it.

We also have lime green cutting boards behind it that match.

No kitchen is complete without a KitchenAid Mixer and it's used daily for egg dishes, breads, cookies and more.

We pride ourselves

on serving the guests as much local and organic ingredients in our foods.

We want guests to experience as much of what Asheville has to offer.

Working for Williams-Sonoma as a Regional VP over 250 stores gave me access to a lot of stockrooms.

This lime green KitchenAid was a special order for a customer who returned it.

Luckily, I was there to purchase it that day and now it lives at the Inn!
GLASS FRONT REFRIGERATOR
Having a glass front refrigerator is one way to make sure we keep our refrigerator clean and organized.

Each shelf is labeled with what goes on it…Juices, Fruits and Jams, Cheeses and Dairy, Condiments, or Meats and Breads.

I've already decided that once our refrigerator at home needs to be replaced, we'll be buying a commercial glass front refrigerator like this one.

It's amazing to be able to see what you have without opening the door and it looks great.
I hope you enjoyed hearing about these 10 Most Talked about Items at Abbington Green.
We hope that you'll agree that they help make Abbington Green a special place for guests.
We hope you come soon to see them for yourself. This is our home and we love sharing it with you!