I think the main difference between a Bed and Breakfast and a hotel is that the owners of a Bed and Breakfast see their patrons as guests in their home, while many hotels may see their patrons as customers.  At Abbington Green we do what we can to make sure our historic home provides our guests with many comforts and luxuries.  We are known for our details!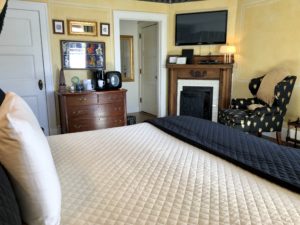 When you stay at a bed and breakfast you get not only a comfortable room, but also many extras.  At Abbington Green we host a social hour each evening from 5 to 6 pm with local NC cheeses, hot appetizers, wine, and local beers.  There is also a 24 hour station set up with fresh baked goods and beverages, and of course our full multi course, sit down breakfast each morning featuring organic and locally sourced foods in season.
Bed and Breakfasts are becoming more popular with guests wanting to feel more at home versus a commercially operated hotel.  At a hotel guests rarely get to know the staff or meet them.  The personal touch of a Bed and Breakfast allows the guest to step back in time and experience a historic home with great character and charm.  Abbington Green is listed on the National Historic Registry as the Jackson-Peyton House, in honor of our first two (and only the owners as a private residence), who lived in this home for the first 70 years after the house was built.
We are proud that our house was designed and built by architect Richard Sharp Smith, who is famous for being the architect who was the on-site architect and completed Biltmore Estate for the Vanderbilts.  What guests experience at Abbington Green today
is a beautifully renovated historic home with modern amenities in their rooms and private bathrooms.
What guests staying at a bed and breakfast come to realize is that we are still a private home/small business, and not a hotel.  We are a home away from home.  There is no front desk and we are only a small staff.  We want you to have the best experience
possible.  Our check-in time is 3 to 7 pm, but we can usually have rooms ready by 1 pm if guests would like and early check-in.  But, in order to fully experience what Abbington Green has to offer, it's important to arrive prior to 5 pm.
The friendly atmosphere at a bed and breakfast is a great part of the appeal of the stay.  Conversing with us, the owners, and meeting other guests are all a part of the experience.
A bed and breakfast offer a completely different experience when compared to a typical hotel stay. Here are 5 reasons why you will love your stay at a bed and breakfast:
Service:  Our goal is to provide our guests with top-notch service.  We do everything we can to make your stay personalized enjoyable, and unforgettable.  We have established many local partnerships in the area that we can pass along to you for tours, private hikes, art tours, and more.
Memorable:  (You are a guest we are welcoming into our home.)  We offer a historic home with many updated and modern conveniences and details in your rooms.  Making you aware of local NC products is important to us so many foods, art, spa products and bath products are a part of your memorable stay at Abbington Green.
Breakfast:  The name says it all:  bed and breakfast.  The most important meal of the day is home cooked and specially prepared for you, our special guests.
Relaxation:  We offer a peaceful setting, amazing porches and beautiful gardens, and views to take in.  It's a great place to escape from the stresses of everyday and let us pamper you.  You may even decide to enhance your stay and make an appointment in advance to experience our spa which is located in the original parlor of our home.
Amenities:  We understand basic amenities must be a part of the experience…all of our goes rooms have king beds, private baths, jacuzzi tubs with showers, heated towel bars, sound machines, wifi, TVs, individual heat /ac controls, fireplaces, and more.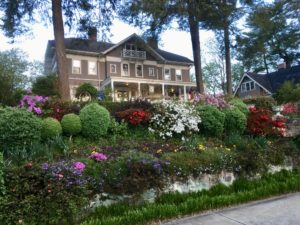 So if you haven't stayed at a bed and breakfast, what are you waiting for?  We would love to host your bed and breakfast stay at Abbington Green!
All the best,
Nick