Abbington Green Gardens
Over 100 years ago, in County Surrey in England, garden designer/artist Gertrude Jekyll became influential in setting the style that we think of today as "the quintessential English garden". Massing of plants by color in "drifts"; grouping plants by size, texture, and height; and creating repeated patterns are all characteristics of Gertrude Jekyll's garden designs.
She wrote many magazine articles and books about plants and design principles during her lifetime. While keeping records of her plans by painting wonderful watercolors, she often worked with architect Edwin Lutyens to execute the designs. Many of these gardens have been restored to the planting plans she created, and can be seen throughout Britain today.
The gardens at Abbington Green surround the house as a series of authentic English garden "rooms", each with a different theme. In 1997 the gardens received the award of the "Best New Gardens" in the County. We have since added the Vegetable Garden and additional flowering plants to sustain wildlife such as butterflies and bees. In 2015, the garden became a Certified Wildlife Habitat. We use no chemicals nor pesticides in maintaining the gardens, in an effort to create a safe environment for our wildlife friends and also our guests.
The seven garden "rooms" showcase plants that are the exact varieties used by Gertrude Jekyll over 100 years ago. Over 400 boxwoods, hundreds of perennials, and dozens of shrub roses and pea gravel paths are a part of our gardens. Many varieties of herbs are not only used as design elements for the gardens, but may also make their way to the table as an ingredient in breakfast!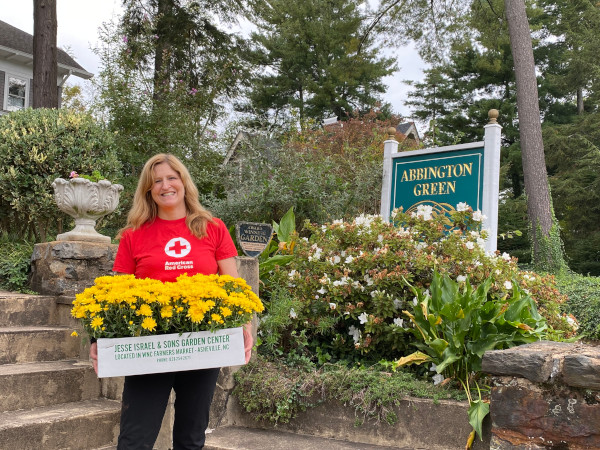 Cherie with garden plants
It is our hope that as you wander the property, you will feel as if time has gone backwards, and you might be standing in a series of very old gardens. It is also our hope that you will take time to share your garden knowledge and experience with others. After all, shared interest in gardens and plants create a wonderful, common bond between people.
Please enjoy your leisurely stroll today through the gardens, one by one.